Memorabilia collection
Alan Merryweather collection
The pictures on this page have been scanned from items in a private collection. All rights of reproduction reserved.

David Cairns and Berlioz – 2000

Miscellaneous items
Theme from Harold en Italie (3rd Movement)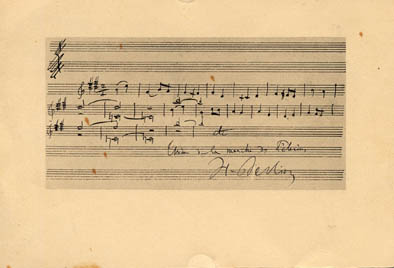 This card was published by the British Museum, printed at the Oxford University Press in 1969, the year of the centenary of Berlioz's death. Berlioz wrote his second symphony in 1834, two years after his return from Italy.
Grande Messe des Morts at the Symphony Hall, Birmingham – ticket 2000
Letter posted in La Côte Saint-André in 2005


Memorabilia main page
© (unless otherwise stated) Michel Austin and Monir Tayeb for all the texts and images on Berlioz Memorabilia pages.