AN AUTOGRAPH LETTER OF BERLIOZ
1832
This page is also available in French
Introduction
This page presents two images of an autograph letter of Berlioz in our own collection (and its English translation); we donated this autograph to the Berlioz Museum at La Côte Saint-André on the occasion of the 206th anniversary of Berlioz's birth on 11 December 2009, together with another autograph letter of Berlioz dated ca. 13 May 1853.
Berlioz wrote this letter in June 1832 to his life-long friend Humbert Ferrand. At the time Berlioz was staying at his parents' home at La Côte Saint-André, which now houses the Berlioz Museum; he was en route to Paris from his Prix de Rome stay in Italy. The letter was first published in Lettres Intimes (1882, p. 118), but the autograph disappeared from view afterwards, and was later reproduced from the original 1882 publication in Correspondance générale (no. 277, vol. II, p. 13). Julien Tiersot in his Les Années Romantiques 1819-1842, gives June 16 as the precise date of the letter (p. 200).
It will be noted that the images below provide for the first time the complete text of the whole autograph.
Berlioz's autograph letter (Museum inventory no. 2009-4-1)
Front

Back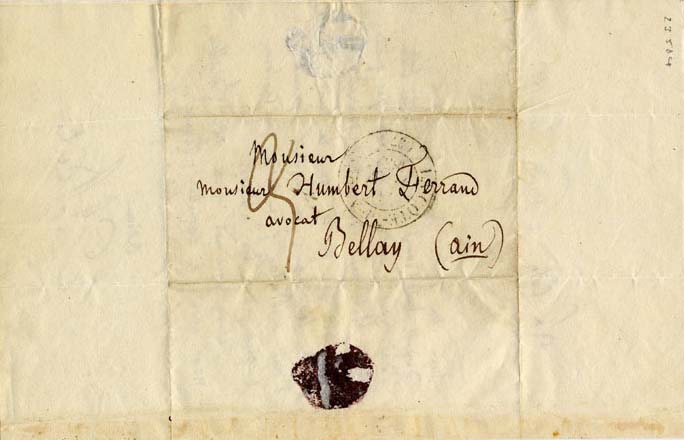 My dear and very dear friend, I have been here for the last 8 days; I received your letter; I will come to see you, but do not know when; probably in the next 8 days. Do not expect me before Monday of the following week; I don't know how I will get to Bellay (sic); I imagine on foot, by way of Les Abrets.
Give my greetings to all your family; we have a lot of gossip to get through...
So for the time being I will keep quiet.
Farewell
H. Berlioz

The Hector Berlioz Website was created on 18 June 1997 by Monir Tayeb and Michel Austin; this page created on 11 December 2009.
© 2009 Musée Hector Berlioz, for the autograph. All rights reserved.
© (unless otherwise stated) Monir Tayeb et Michel Austin. All rights reserved.
Back to Contemporary Performances and Articles page
Back to Home Page